Each month I share a selection of articles, blog posts, and/or videos that caught my attention over the past month. If a resource resonates with you, all I ask is that you share it with at least one other colleague. Help spread the learning!
If you are a classroom educator, Marian Dingle wrote this post for you. May it offer comfort as we embark on a school year unlike any other.
Excerpt to whet your appetite:
Please remember to forgive yourself continually. You will address each issue as it comes. That is your best.
Kaneka Turner, Deborah Peart, and Dionne Aminata recently launched a Twitter hashtag and accompanying website/blog with the following exciting goals:
empower Black women in math education to share their expertise
bring together expert voices often unheard in math education
serve as a resource for professional learning for teachers and leaders
They have two blog posts so far. The first, The Brilliance Hiding in Plain Sight introduces us to these three educators and their journey in mathematics.
Excerpt to whet your appetite:
We share our stories today, not to evoke sympathy from our readers, nor to assign blame to the educators of our past. There is power in sharing our stories. They hold the potential to raise awareness about the reality of the inequities Black women face in the world of math education. These stories can also serve as a mirror for Black women who have yet to find their voices after years of being silenced.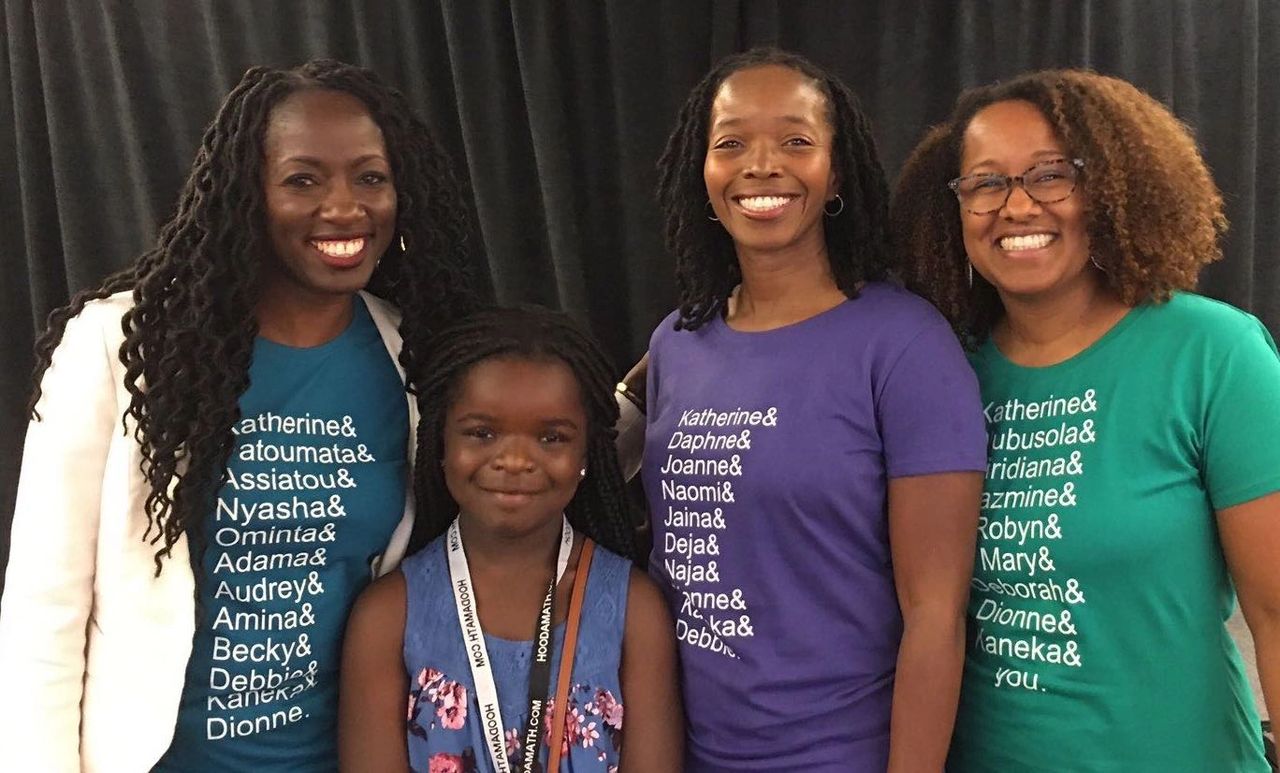 In the second blog post I am Brilliant! I am not a Mathematician., Deborah Peart reflects on her role as a mathematics educator and ponders the questions, "Am I mathematician? If not, then what am I?"
Excerpt to whet your appetite:
What title fully captures the brilliance of elementary mathematics educators? How brilliant must one be to understand how children learn concepts and formulate ideas? To analyze students' work and understand their thinking, even when the answer is incorrect?
While we eagerly await future blog posts, I encourage you to hear from Kaneka and Dionne firsthand in the talks they gave at ShadowCon, an event held at the NCTM Annual Conference.
This article highlights the work of Dr. Naomi Jessup, an assistant professor in mathematics education at Georgia State University. She advocates for a culturally relevant way of teaching math — one that encourages conversations about how knowledge can be applied to students' lives outside of the classroom.
Excerpt to whet your appetite:
"We are constantly giving kids strategies and we want them to replicate those strategies in a problem, but what if we allowed to build on someone else's ideas in the class?" she said. "We have to allow kids to think and reason in ways that make sense to them. We have to give them context that allows them to think deeply about how math is connected to the world, but more importantly their lives."
Want to learn more? You're in luck! Dr. Jessup and Marian Dingle recently sat down for a deep conversation on the Heinemann Podcast. In their episode, What We Do for the Love of Math, they talk about mathematics as a humanizing force; a tool for finding solutions to social injustice.
This short video from educator Dena Simmons dovetails beautifully with the work of Dr. Jessup.
"We can all get better at our practice, and put in the antiracist and equity lenses to our work to ensure that we do no harm. Good instruction should be student-centered, and student-centered is being culturally responsive and being antiracist."
In this featured blog post on the Illustrative Mathematics blog, Janaki Nagarajan shares how she has adapted the choral counting routine to her virtual instruction. She provides some great advice about how to lead a choral count during synchronous instruction and how to extend the learning during asynchronous instruction.
I particularly appreciate the guiding questions Janaki uses as she plans and creates her virtual lessons, not just choral counting:
How can I see and hear children's thinking, and how can I use what I observe to adjust practice?
What opportunities does distance learning afford me to learn more about student thinking than may normally be possible due to various in-school limitations?
How can I use technology to enhance student agency?
How can I use technology to let students see each other's thinking?
In this quick blog post, Janice Novakowski shares several collections of FREE virtual manipulatives available to teachers along with a few resources on the research and use of virtual manipulatives.
Kassia Wedekind and Christy Thompson have a new book out called Hands Down, Speak Out from Stenhouse
The book focuses on how to build community and conversation centered around students' voices. One thing Kassia and Christy have done that I appreciate is blog about their ideas to give us a sneak peek of what is expanded on in the book
One post they wrote this summer that is especially relevant right now is Unmuting Students' Virtual Voices: A Reflection on Distance Learning.
Excerpt to whet your appetite:
So how do we keep student talk alive in this virtual environment? It seems to me that we can best do this by using a small-group session format for academic instruction. When there are less than seven or so young children gathered, we get to the point where those "mute" buttons might be released. Closer to four or five children, and our faces might be large enough on the screen to read facial expressions. Depending on the platform we are using, we might even be able to see all the students on the screen at the same time. Then, student conversation can start to flow naturally, and no longer has to pass through the teacher-as-gatekeeper. Students can begin to "own" the talk again.
I also appreciate their recent post Growing Classroom Dialogue with Micro-Lessons, which are intentional, in-the-moment nudges to build on students' natural ways of talking and listening.
Excerpt to whet your appetite:
Children are born competent learners and we can capitalize on this innate ability by offering them brief invitations to try on new skills.
---
That's it for this month's Twitter Tasting Menu. If one or more of these resources resonated with you, please share the learning with colleagues at your campus or beyond. I am sure there are others who will appreciate it as much as you did. We are all better together!