Last school year I started a monthly feature on this blog called the Twitter Tasting Menu where I shared articles, blog posts, and/or videos that caught my attention. As we approach the 2020-21 school year, many of us will be engaging in some form of remote/virtual learning. This month what I want to do is share some of the resources that have helped me conceptualize what effective distance learning might look like. There are a lot of facets to consider and I appreciate how each of these educators have helped me think through them.
If you're like me, you're probably wondering what in the world remote instruction is going to look like in the primary grades, particularly in Kindergarten. Bethany Lockhart Johnson is here to to show you it can be done and it can be done well! Even better, her ideas apply beyond Kindergarten so don't skip over this if you teach another grade level!
Bethany wrote a lovely blog post, linked above, describing how she engaged her Kindergarten students in mathematical problem solving that (1) focuses on the major work of the grade, (2) considers access, (3) makes use of technology, (4) amplifies student voices, and (5) helps students connect to one another. In particular, Bethany shares how she utilized Flipgrid and Seesaw to help her accomplish these goals.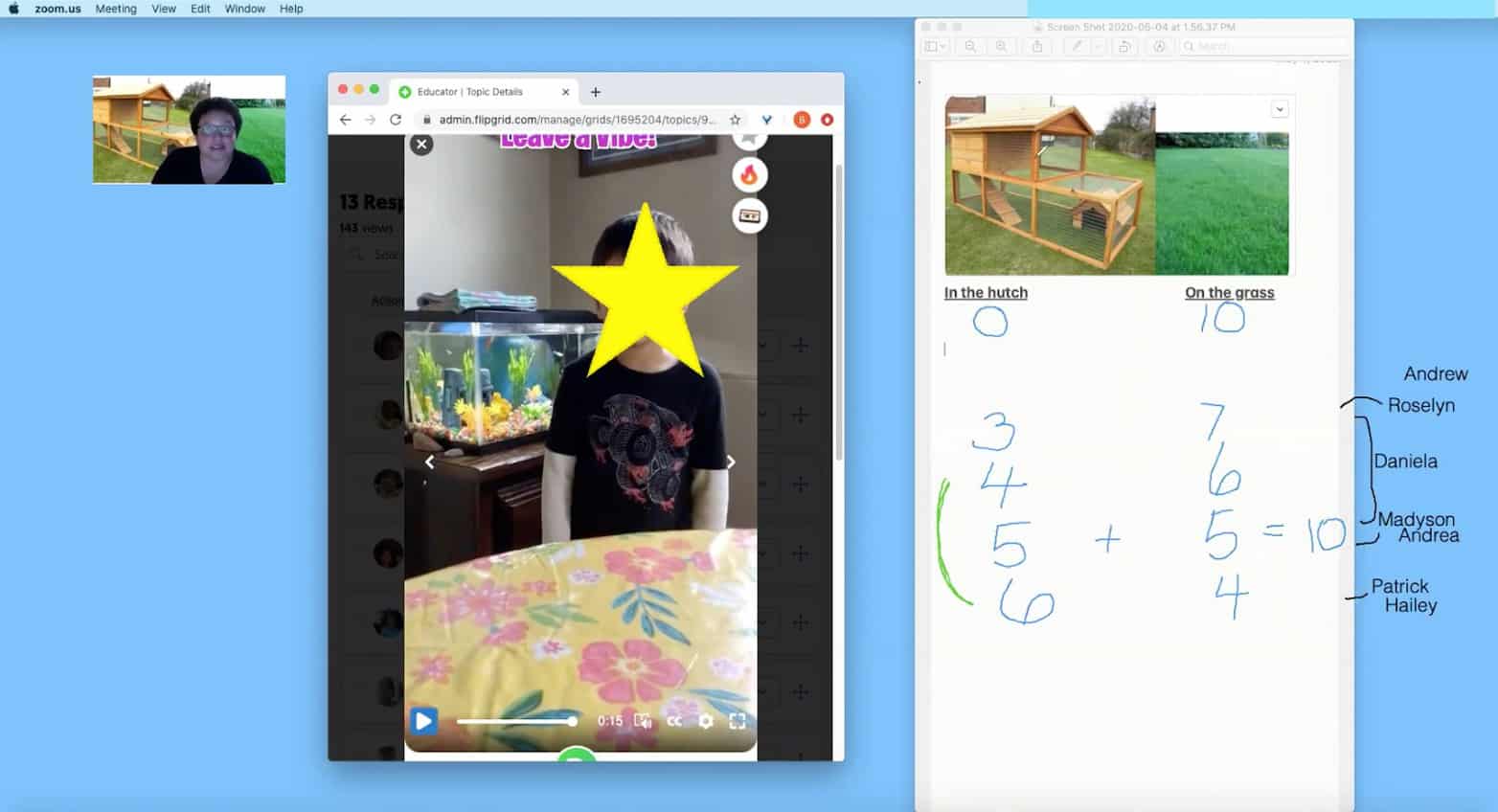 If you'd rather listen to Bethany share her craft instead of reading her blog post, you're in luck! Bethany recently participated in a webinar hosted by Student Achievement Partners called Structuring Synchronous and Asynchronous Learning in the 2020-21 School Year: Strategies for Inclusive Engagement. You will need to "register" for the webinar, but since it already happened you will immediately be emailed a link to a recording of the webinar.
Excerpt to whet your appetite:
"I quickly discovered whole-group synchronous math share-outs were not going to work. Varying tech speeds, background noise, and general wiggliness of five-year-olds meant that students (and I) had a hard time engaging in or even hearing each other's thinking. With limited time until the end of the year, I knew that I had to adjust my instructional strategies to account for remote learning limitations, while still giving all students access to the highest-leverage content."
Janaki Nagarajan is another elementary educator helping us all out by bringing us into her virtual Kindergarten classroom, sharing numerous ideas she implemented to engage her students in rich mathematical tasks and thinking. I loved reading about her intentional planning, decision making, and revising during the spring. Oh, and did I mention she took over this class right as her school transitioned to remote learning?
Excerpt to whet your appetite:
"It was a Saturday when I learned I would take over as a Kindergarten teacher for the rest of the school year for a teacher who was going on maternity leave. On a Tuesday morning, barely a week later, I came to the school for a professional development day and was told okay, it's happening, and you're the teacher now. On Wednesday, all the schools in our district closed, and by the next Monday I was teaching Kindergarten, fully online."
Now that the school year is over and she's had some time to reflect, Janaki's back with a treasure trove of ideas that she implemented during distance learning in the spring. I love how she gives concrete examples and illustrates them with photos and video to help us imagine trying out these same ideas in the upcoming school year.
Excerpt to whet your appetite:
"The photo appears to be an outside kitchen/stand in South Asia – many of my students are Indian and have travelled there, and I recognized the metal pans and colorful beans as part of my own childhood. Embedding students' math exploration in a variety of contexts shows that math is everywhere, and pushes back on the defaulting to the same objects and contexts over and over."
Rich math tasks are designed to promote discourse and sensemaking in the classroom. In this webinar hosted by Stenhouse, Graham Fletcher answers the question, "How can we adapt our facilitation of rich tasks so students can have access to interesting mathematics from home?" Whether you're able to have real-time virtual conversations or are limited to asynchronous options, Graham shares ways you can connect with your students, create spaces for them to share their ideas, and engage students in productive math thinking from home.
Kristin Gray and Kevin Liner from Illustrative Mathematics wrote a two-part blog series (Part 1 and Part 2) to challenge educators about how we're starting to plan for the upcoming school year. Kristin expanded on the ideas in these posts in her 2020 NCTM Virtual Leadership Conference session Leveraging Mathematical Connections to Build on Student Understanding. In her session she shares two reactions many educators are having to the start of the new school year, and she considers the consequences of each of these reactions:
Reaction #1 – Frontload the year with all missed prior grade-level content.

Consequences

Sends the message to students that they are 'behind' from the start
Lose valuable instructional time for current grade-level concepts

Reaction #2 – Assess immediately upon re-entering school.

Consequences

Creates a stressful and intimidating start to re-entering school
Places value on testing over building community and relationships
Leads to grouping of students that often include hidden racial and ability biases
In their first blog post, Kristin and Kevin share three guiding questions that are helping them plan for the new school year:
How do we invite students back into our class in a way that is welcoming, supportive, and centered around community?
How do we formatively assess student thinking and make decisions in ways that don't perpetuate the problems often caused by grouping students, such as we see in some workshop models and RTI?
How do we create a coherent learning experience for students so each day's learning does not feel disconnected, even more than it already is after the missed months of school?
They follow up with three suggestions and go into detail about each one:
Incorporate prior grade-level knowledge and skills, when necessary, to support access to current grade-level content.
Use assessments meaningfully yet sparingly to make strategic instructional decisions.
Integrate ongoing practice and review into the teaching of current grade-level content, instead of disrupting it.
One of the most impactful ideas they share is the idea of designing mathematical on-ramps instead of attempting to "fill gaps."
In their second blog post, Kristin and Kevin give a concrete example of how they're designing curriculum for next school year to build in mathematical on-ramps and formative assessment to ensure students have access to grade level learning from the get-go.
Craig Barton has been hosting a math education podcast for several years. This spring he launched a series of episodes called Teaching From Home where he interviewed a wide array of educators about how they were handling remote teaching as educators and as parents. I recommend perusing the episodes in your favorite podcast app, but I'll make a few recommendations of my favorites if you're not sure where to start.
Jules Daulby – Supporting Students with Special Educational Needs
Helen Williams – Supporting Early Years Students
Michael Pershan – Zoom, Assessment for Learning, and a Careful Choice of Questions
Ollie Lovell and Bryn Humberstone – Checking for Understanding, Desmos, and Lessons Learned
Here's the description of the Teaching From Home podcast series from Craig himself:
"This is a series of episodes dedicated to supporting teachers who are working from home amidst the Covid-19 outbreak of 2020. There will be technology focussed episodes – just how does remote teaching work? But also episodes focussed on the practicalities of coping with setting students appropriate work whilst also having to look after your own children at home. Then there are issues of safeguarding, differentiation, mindset and more that I hope will come up as we progress. There will be maths teachers, teachers of other subjects, and primary school teachers. There will be teachers from the UK and overseas. Hopefully something for everyone."
---
That's it for this month's Twitter Tasting Menu. If one or more of these resources resonated with you, please share the learning with colleagues at your campus or beyond. I am sure there are others who will appreciate it as much as you did. We are all better together!